EK Water Blocks (EKWB) is releasing a new RGB liquid cooling monoblock.
This water block cools the most critical components on the motherboard which are the CPU itself and VRMs.  The VRMs in particular are supposed to get extremely hot on X299 when using higher core count CPUs.
The underside of the monoblock shows a new baseplate design in order to have better contact with the IHS. Better contact and therefore cooling will also be incredibly important for the high core count CPUs that are coming.
The base of the monoblock is made of nickel-plated electrolytic copper while the top is made of acrylic. The nickel plated brass screw-in standoffs are pre-installed and allow for easy installation.
The block also has RGB LEDs and has support for MSI's own Mystic Lighting.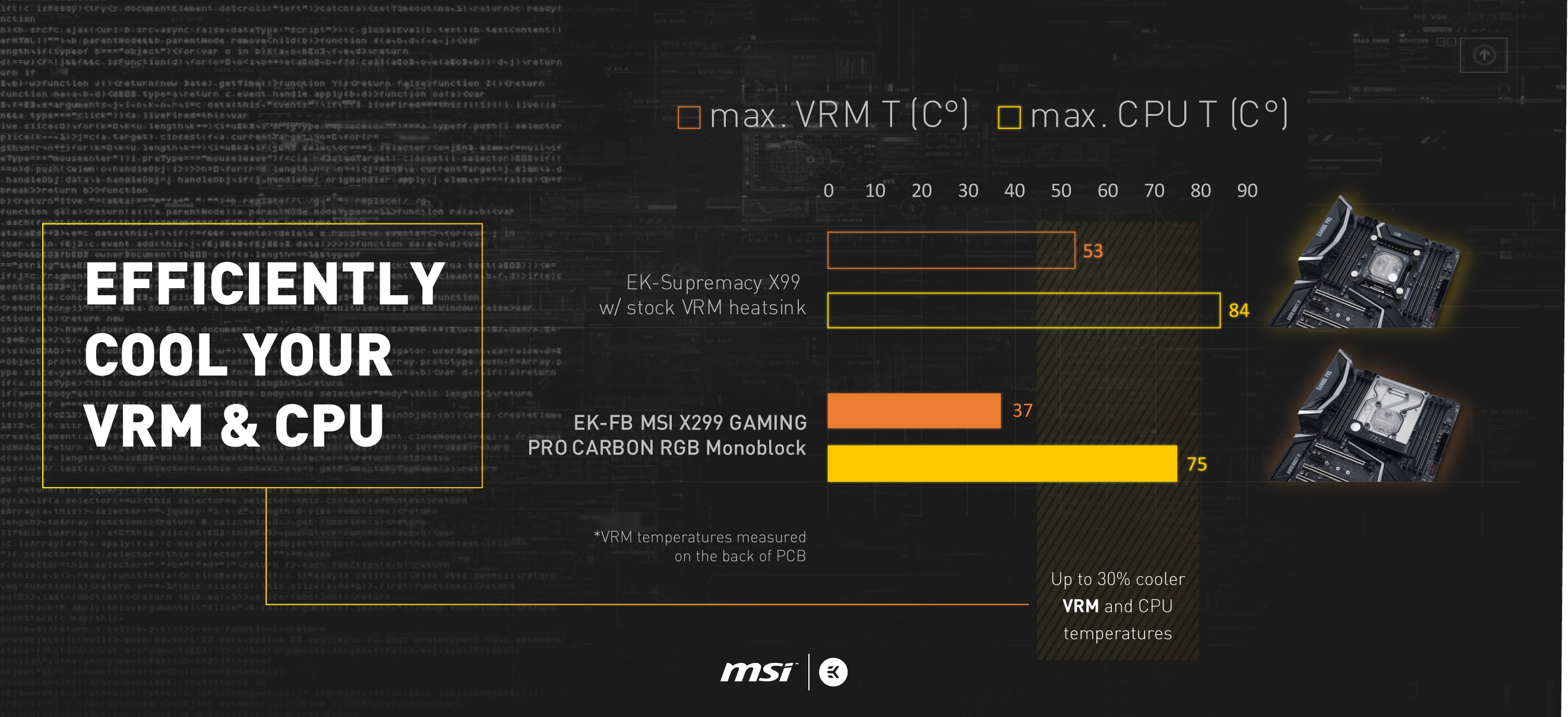 Here we can see what to expect in terms of cooling performance.  EK is claiming 9C better performance over their own Supremacy X99 for the cpu cooling.  Presumably if this is accurate then the X99 mount is not well suited for mounting to this board.  The VRM's also drop 16C – a good amount but it's worth noting this is measure don the PCB and the VRM internals will be hotter and so the temperature delta is probably larger than 16C in actuality.  In general in the past we've seen deltas approaching 50C between air and liquid cooled VRMs.
This monoblock is compatible with the following MSI motherboards:
MSI X299 GAMING PRO CARBON AC
MSI X299 GAMING PRO CARBON
MSI X299 GAMING M7 ACK
Pricing and availability:
The monoblock is available for pre-order on EKWB page and no doubt at Performance PC's shortly.
Official MSRP is 119.95€
All pre-orders will start shipping on July 27, 2017.
Source: ekwb.com